USMLE question bank
How QUPI Helps You Pass the United States Medical Licensing Examination (USMLE)
"An MD won't set your free" – anonymous medical student.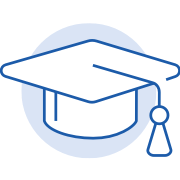 If you're in the United States, then before you'll be allowed to practice medicine you will have to complete the three-step United States Medical Licensing Examination. Basically, these exams test your ability to apply what you have learned from your medical education to the kind of real patient care scenarios that you will actually be encountering as a doctor. 
QUPI will help you prepare by giving you practice questions that are designed with the USMLE in mind, so you can be sure that each question you answer builds your confidence and helps you become more prepared to pass the test at the end of your studies.
Pass USMLE with QUPI
After finishing your finals as a medical student in the United States and gaining your MD degree, there is only one more step required before you will finally be able to apply for a permit to practice medicine – passing the United States Medical Licensing Examination (USMLE). Passing this three-step exam is required to gain medical licensure in the United States, which you will need to receive a practice permit. The USMLE will test your knowledge, skills, and aptitude in the medical field, requiring you to put all that you have gathered through your education to this one final test.
The USMLE presents new examination materials every year, carefully prepared and thoroughly checked by examination committees, which feature renowned clinicians and medicine professors from all over the United States. The exam, however, always consists of three steps. Knowing the formula of the exam and what to expect will help you better prepare for it, giving you the confidence needed to remain calm in stressful situations, which will surely be plentiful during the test.
Step 1
The first step of the United States Medical Licensing Examination will take you a single day and is divided into seven components, each taking 60 minutes. Prepare for a long testing session, as all of these components are fitted into one 8-hour-long segment. The exact number of questions presented in Step 1 varies from year to year, but the maximum limit of questions per block is 40. bringing the maximum total number of questions to 280 for the whole examination. All of the questions will be multiple-choice, and you can expect as many as 10 answers to choose from!
Step 1 will test your knowledge of the concepts related to Anatomy, Biochemistry, Pathology, Microbiology, Pharmacology, Physiology, Nutrition, Genetics, Aging, and Behavioral Sciences, among others. You can expect an emphasis on health, disease, and modes of therapy. Besides the knowledge of concepts from these fields, you will also be expected to put them into practice. Keep in mind that you are expected not only to show knowledge of the sciences that act as a foundation to medicine and its practice, but also their relevance to lifelong learning.
Make sure you study properly for Step 1, as passed attempts cannot be repeated to achieve a higher score. Should you get a low, yet passing grade, you will be stuck with that score for the rest of your life – don't take it lightly! Each failed attempt is also permanently recorded. Your Step 1 score will have a tremendous bearing on your further education and career as a medical practitioner.
Step 2
The second step of USMLE will test whether you can apply your knowledge and skills when working with patients. Step 2 is further divided into two parts: Clinical Knowledge, and Clinical Skills. The Step 2 CK exam is, similarly to Step 1, a one-day examination with eight blocks of 60 minutes, contained within one 9-hour-long session. One hour is set aside for a maximum 45 minutes of break time, as well as a 15-minute tutorial. During the CK test, expect questions about preventive medicine, psychiatry, internal medicine, pediatrics, obstetrics, gynecology, and surgery. You may also encounter questions from additional relevant areas, so prepare well.
The USMLE Step 2 Clinical Skills examination is slightly different than the previous two. During this step, your ability to interact and gather information from patients will be tested. You will also be tasked to perform physical examinations, after which you will use the data gathered to communicate with your patient and cooperate with your colleagues. Currently, this examination is only offered in five cities in the United States: Chicago, Atlanta, Houston, Los Angeles, and Philadelphia.
Step 3
The final step of USMLE – Step 3 – will test whether you are ready for the unsupervised practice of medicine. It is usually taken at the end of your first year of residency. The exam will test mainly patient management and ambulatory settings. Step 3 takes two days and includes 233 multiple-choice questions, with approximately 7 hours of testing during the first day and 9 hours on the second. You will then have to proceed through 13 case simulations, with a time limit between 10 and 20 minutes for each one.
No idea how to study? Try QUPI!
The USMLE can be a tough nut to crack, but worry not – QUPI is here to help! QUPI is an immense database of medical questions, with more than 10,000 practice questions! These questions will help you properly prepare for the exam, allowing you to test your knowledge and assess which areas need to be worked on.
QUPI features questions specifically constructed for major medicine exams around the world, including the USMLE. Make the exam easier on yourself and give QUPI a try now with an absolutely free 7 Day Trial!
USMLE FAQ Section
Are you in the United States and studying to become a medical professional?
Thanks to years of studying, your dream career is finally in reach. So, another exam is probably the last thing you want to face. Don't feel disheartened, as QUPI is here to help you pass the USMLE with flying colors!