We get it: medical school is hard. You have so much to learn in such a short time, and the pressure to pass exams and stay ahead of your classmates can be overwhelming
Medical students suffer from statistically staggering rates of depression. This sucks. The world needs more doctors, and we strongly believe that becoming a doctor shouldn't be a matter of torture. Sure, you need to work hard, but that doesn't mean you can't enjoy yourself as well.
That's why we're touring medical student conferences around the world: to spread the message about putting the joy back into medical education.
Last month we were in Edinburgh at the Royal Medical Society National Student Conference. (Missed the event? Check out the highlights video here).
This month we were off to Krakow, Poland, where QUPI was featured in the International Medical Student Conference!
More News: Future Doc House Celebrates 5000 YouTube Subscribers
Congratulations to QUPI spokesman and brand ambassador Future Doc House for passing 5000 subscribers on YouTube!
His videos help make complicated subjects – like microbiology – simple, with short, entertaining video lectures that are watched by thousands of medical students around the world. If you haven't yet subscribed, you're missing out on a great (and fun!) study tool.
Latest video: Putting The Joy Back into Medicine – watch it here:
Pssst… Are You Ready for QUPI 2.0?
QUPI is already the easiest and most enjoyable way to practice your medical knowledge and prepare for your exams.
With over 10,000 practice questions already live and with competitive pricing, it's no wonder students around the world love this platform. But we're not content with 'Good' – we want to constantly innovate to make QUPI the best possible tool to help you become a doctor.
At student conferences around the world and through our social media fans, we've been constantly asking you for feedback on how to make QUPI even better. We've been working closely with a team of developers to implement your suggestions.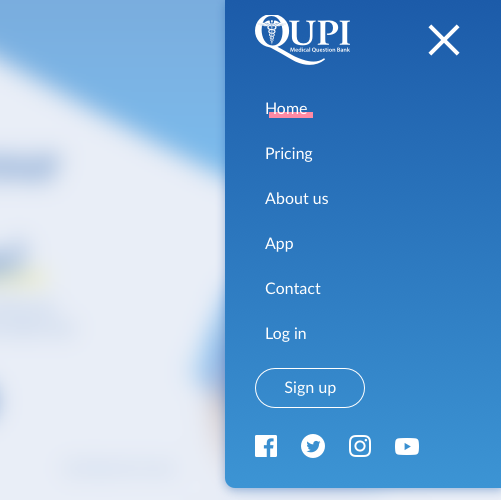 I can't give you much more info yet, but you should know that every QUPI member will automatically be upgraded to the new platform as soon as it's released. So if you're not already using QUPI to practice your medical knowledge, now is the perfect time to start your 7-day free trial over at QUPI.com
That's all the medical studies news for today!
Damian
Password restore
Forget your password? Don't worry, this isn't an exam! Just enter your email below and we'll email you a link to reset your login details
Message sent
We've sent an email to the address you gave us with a link to reset your password. If nothing comes through in 10 minutes, be sure to check your spam/junk mail folder